We believe in the power of a prevention-focused approach for our clients and we continue to earn the right to serve them. After all, we exist to help them meet their health, safety and business goals.
It's clear to us that doing everything we can to keep workers safe and healthy is the right to do. There is no doubt or question that taking a prevention-focused approach should be the first priority.
This is what we firmly believe, but we also recognize that showing the business value of OHS programs is fundamental to how a company chooses to allocate resources.
So to give current and potential clients a clear view of the business value of our services, we conducted an internal study of the cost-reduction data of seventeen of our clients. As you can see, our approach gains value over time as a culture of prevention and wellness is built up within our client's organization.
The Results:
This study averaged the MSD cost reductions for the seventeen companies that participated in the study and includes the first four years an Ergonomics Plus program was implemented. Only direct medical costs were measured; other associated secondary or "hidden" costs were not included.
The results of this study are outlined below. Notice that significant gains are achieved in the third and fourth year of service engagement with an Ergonomics Plus injury prevention specialist. This illustrates that our services gain value over time as a culture of prevention is established in our client facilities.
Year 1: Costs were 14% less than projected
Year 2: Costs were 47% less than projected
Year 3: Costs were 76% less than projected
Year 4: Costs were 78% less than projected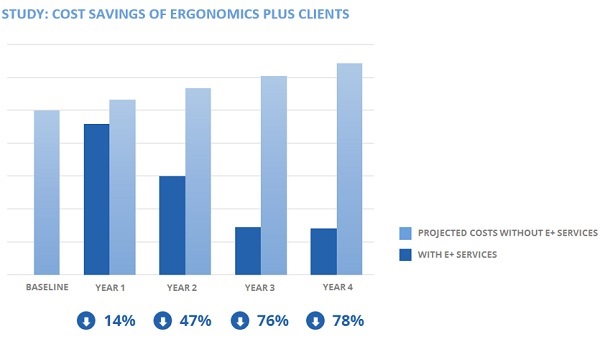 *based on a 6.5% medical inflation rate (conservative).
** Important — keep in mind that this is an estimation based on past client data and does not guarantee future results.
Get a Customized Cost-Benefit Analysis
If you're on the fence about partnering with us or need to cost-justify our services, we created a handy Excel spreadsheet that will estimate your ROI for our services. Click the button below to download or get in touch with us and we'll do our best to help you out.