Musculoskeletal (soft tissue) injuries and disorders are common and costly. They are the single largest category of workplace injuries and are responsible for almost 33% of all worker's compensation costs. (source: BLS)
The cumulative human and financial costs of these injuries is staggering. Companies spend billions of dollars on medical costs and lose billions more on lost productivity.
Workers have to deal with a painful injury and possibly surgery, prescription medications and all of the other side effects from this unnecessary experience.
The answer to this common and costly problem is prevention. We strongly encourage our clients to take a proactive, prevention-focused approach. Not only is it simply the right thing to do for their people, but there is business value in preventing these costly injuries while also improving human performance and productivity.
Do the right thing, lower costs, improve productivity and efficiency. If this strikes you as the right way to do business, keep on reading. We're going to lay the foundation for a smart MSD prevention process that gets results.
Step 1 — Understand What Causes Musculoskeletal Disorders (MSDs)
Musculoskeletal Disorders are injuries and disorders to the human body's musculoskeletal, or movement, system — muscles, tendons, ligaments and nerves.
A few of the most common MSDs include:
Muscle / Tendon Strain
Tendonitis
Ligament Sprain
Tension Neck Syndrome
Thoracic Outlet Compression
Rotator Cuff Tendonitis
Epicondylitis
Radial Tunnel Syndrome
Digital Neuritis
Trigger Finger / Thumb
DeQuervains's Syndrome
Carpal Tunnel Syndrome
Mechanical Back Syndrome
Degenerative Disc Disease
These injuries are caused by exposure to a number of risk factors over the course of time, as outlined below.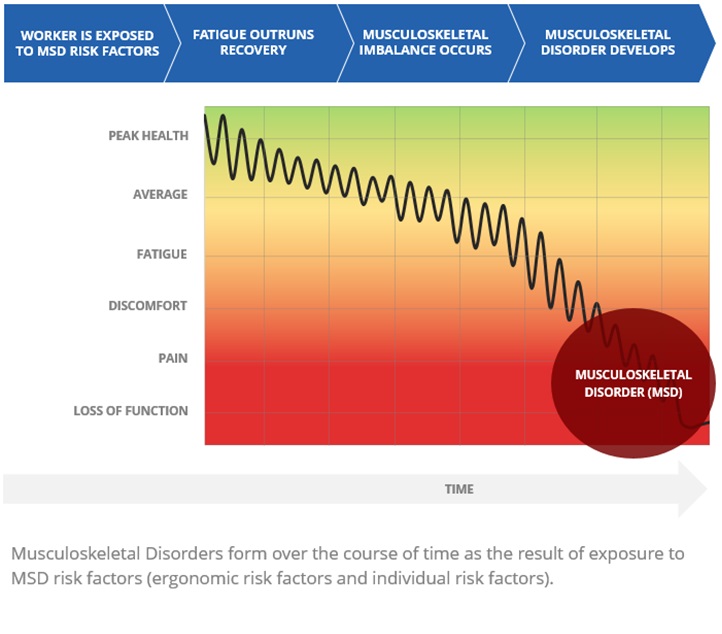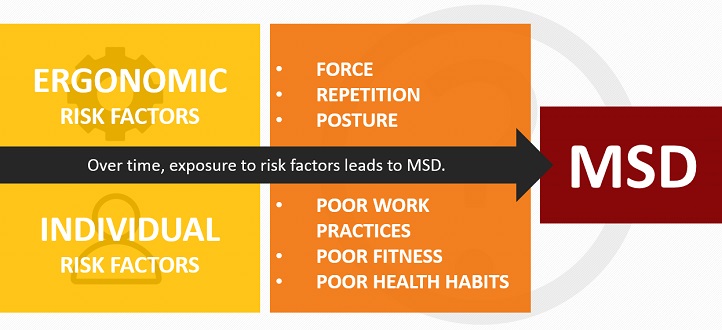 Step 2 — Commit to a Proactive, Prevention-focused Approach
Now that you understand MSDs are the result of exposure to ergonomic and individual risk factors, it's decision time.
You see, the biggest MSD prevention mistake we see time and time again is that the company does nothing. They do nothing (or very little) in the way of prevention, so they are left with treating people after they develop an MSD, hoping to minimize the damage.
Our philosophy is that prevention is better than treatment and that the best time to take action is now. Prevention today improves returns tomorrow and on down the road. So decide. Commit to a prevention-focused approach that reduces and eliminates all causes of MSDs.
Step 3 — Implement a Comprehensive MSD Prevention Process To Reduce & Eliminate All Causes
Earlier, you learned that MSDs are the result of exposure to ergonomic risk factors and individual risk factors. This means that to prevent MSDs, you need to have a process in place that reduces and eliminates both ergonomic and individual risk factors.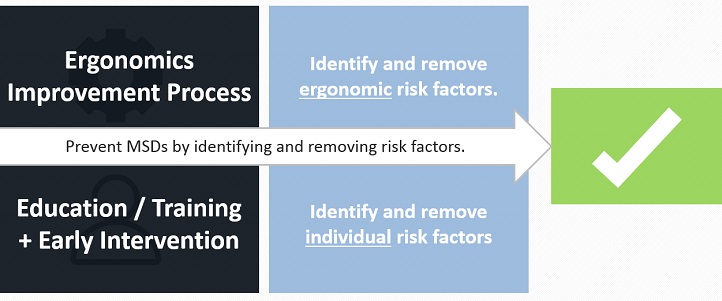 That is what we mean by a "comprehensive" MSD prevention process. It's a process that eliminates all risk factors contributing to MSDs. Anything short of a comprehensive process just doesn't cut it. Even the best employee training will not reduce ergonomic risk factors. And even the best ergonomics improvement process will not help the employee who continually uses poor work practices, poor technique and isn't fit for work.
Here is the Ergonomics Plus philosophy:
Ergonomics
Ergonomics is the science of designing the workplace, keeping in mind the capabilities and limitations of workers. Poor worksite design leads to fatigued, frustrated and hurting workers — and eventually costly injuries.
A systematic ergonomics improvement process improves worksite design, removing risk factors that lead to musculoskeletal injuries and allowing for improved human performance and productivity.
Plus
Plus, we treat your employees like professional athletes. We coach and train your "workplace athletes" to use good work practices, proper body mechanics and posture in order to achieve maximum safe work performance.
In addition to formal classroom education and 1-on-1 follow up training, our on-site injury prevention specialist will respond to early reports of fatigue and discomfort to immediately identify the root cause and resolve the issue before it becomes an injury.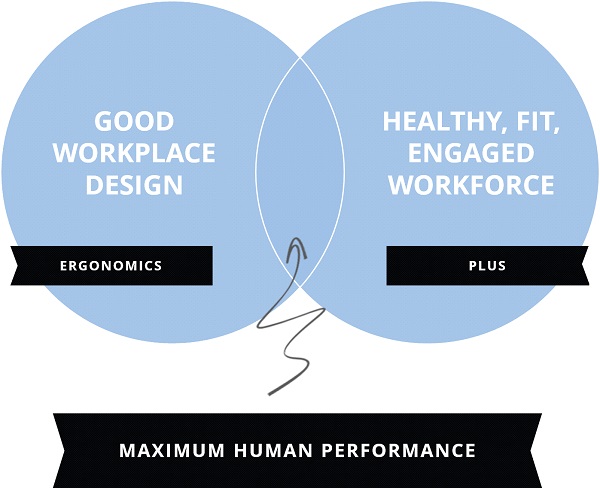 By implementing a comprehensive process that follows the "Ergonomics Plus" model, we're able to reduce and eliminate risk factors contributing to MSDs for our clients.
Overview of the Ergonomics Plus System
We've written extensively about how and why our process works. Here is a general outline of our process as well as tools, tips and advice from the Ergonomics Plus team. After reading these articles, you'll have a better understanding of our process and the philosophy behind it.
Establishment
Education
Early Intervention
Ergonomics
Evaluation
Additional MSD Prevention Tools and Resources
Want more? We've got your back. Here are a few of the ergonomics and human performance tools we've made available here on our website.