Education and training ensures your workforce is empowered to accomplish the roles and responsibilities you've strategically laid out for them. Group training and one-on-one follow up sessions make sure the message is getting through and that learning objectives are being translated into real-world skills.
Poor decisions and practices by workers (at work and at home) lead to increased injury risk, and eventually a painful injury, lost productivity and the resulting costs.
We coach and train your "workplace athletes" to use good work practices, proper body mechanics and posture in order to achieve maximum safe work performance.
In addition to coaching your workplace athletes, we provide tools and training for everyone involved in the ergonomics improvement process to ensure a cost-effective and sustainable ergonomics process.
Let's talk about you!
What does it mean to be "world-class" in health and safety? It means getting better every day, always making improvements. It means every employee is a safety professional, first and foremost.
Getting to that point requires a well-trained and well-equipped workforce. Education and training is a vital piece of this puzzle.
If you're ready to learn how Ergonomics Plus can help you educate and train your workforce, contact us today.
Education Resources
Not ready to talk? Or maybe you're just doing research? Either way, we're here to help. Here are a few resources you can download to learn more about Education from our resource center. Enjoy!
Education Ebook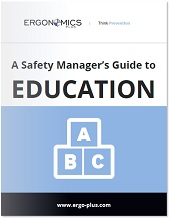 Download our free ebook, A Safety Manager's Guide to Education, to learn more about our education and training philosophy.
The E+ System
Education is part of our comprehensive prevention process called theErgonomics Plus System. Explore the Ergonomics Plus System and learn how our process can benefit you, your business and the people behind it.