Establishment is the foundation and lasting blueprint for success. It begins with a long-term vision that prevention is better than treatment and ends with a culture of safety, wellness and human performance that is hungry for continuous improvement.
Your business is unique. You have unique challenges and unique improvement opportunities. By definition, your company culture is unique. Because of this fact, you deserve to be treated as such with services and solutions tailored specifically for you. Fundamental principles of prevention will not change, but each Ergonomics Plus client gets a customized version of our prevention process that meets their particular needs.
When you share your challenges with us, we respond with a custom plan that includes the perfect combination of our services to help you meet your health, safety and business goals. The Establishment phase of our process ensures you have the right plan in place, educates leadership on process roles and responsibilities and builds our combined efforts on a rock-solid foundation.
Let's talk about you!
We exist to help you execute a best in class injury prevention program. The injury prevention specialists at Ergonomics Plus have been partnering with folks like you since 1989, helping them prevent unnecessary injuries and enhance human performance. Over two decades of experience has taught us that the most successful outcomes were achieved by first establishing a lasting blueprint for success.
If you're ready for an experienced partner to help you build your efforts on a rock-solid foundation, get in touch with us today.
Establishment Resources
Not ready to talk? Or maybe you're just doing research? Either way, we're here to help. Here are a few resources you can download to learn more about Establishment from our resource center. Enjoy!
Establishment Ebook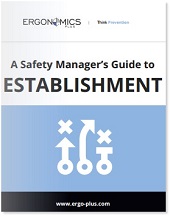 Download our free ebook, A Safety Manager's Guide to Establishment, to learn more about establishing a prevention process that gets results.
The E+ System
Establishment is part of our comprehensive prevention process called theErgonomics Plus System. Explore the Ergonomics Plus System and learn how our process can benefit you, your business and the people behind it.