All great relationships are built on trust and open lines of communication. We know that in order to have a long-lasting relationship with you, we must prove our value to you and your company every month.
Evaluation is how we report our results. We default to over-communication to make sure you're absolutely thrilled with our services and you know precisely what the plan is for continuous improvement. We aim to engage in long-lasting relationships with our clients to build a world-class health and safety process. Ultimately this is best for you and for us, the sign of a successful partnership.
The Evaluation phase of the E+ System includes a monthly progress report and a comprehensive annual audit of the entire process. Together, we'll evaluate results and explore opportunities for continuous improvement.
Let's talk about you!
We would love to have a conversation with you about your health, safety and business goals. With a proven injury prevention process and a track record of helping our clients meet their goals, we're eager to work alongside you to help you meet yours.
If you're ready to learn how Ergonomics Plus can help you meet your goals, contact us today.
Evaluation Resources
Not ready to talk? Or maybe you're just doing research? Either way, we're here to help. Here are a few resources you can download to learn more about Evaluation from our resource center. Enjoy!
Evaluation Ebook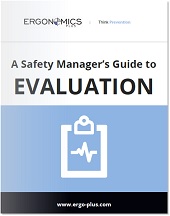 Download our free ebook, A Safety Manager's Guide to Evaluation, to learn more about how we evaluate and continuously improve our results.
The E+ System
Evaluation is part of our comprehensive prevention process called theErgonomics Plus System. Explore the Ergonomics Plus System and learn how our process can benefit you, your business and the people behind it.